FUNCTIONAL WORK
Handpainted warps, MX Fiber Reactive dyes. Handwoven rayon and cotton, twill, plain weave, basket weave, supplemental warp, 8 shafts. Cotton flannel interlining, sunblock lining, Roman shade hardware.
This window shade was selected for exhibit in "Parrots, Peacocks and Palms" Juried Functional Weaving Exhibit CONVERGENCE 2008, Tampa Bay , FL Juror: Catharine Ellis
Quilted Pineapple Block using fabric scraps of handpainted handwoven rayon and silk with wool weft, and raw silk. MX Fiber Reactive dyes. Ultrasuede® trim, silk lining, purchased closure, original bag design.
This bag was selected for exhibition in "The Pearl in the Oyster" Juried Personal Adornment Exhibit CONVERGENCE 2008, Florida Craftsmen Gallery, St. Petersburg, FL Juror: Victoria Rivers
Wet felted, of Corriedale/ Finn/ Rambouillet Cross wool, and Bombyx Silk, from Spinners Hill. Inkle woven band, of variegated soy silk, rayon, and Tencel. Ultrasuede® trim, rayon lining. Pattern from The Sewing Workshop, purchased pin from Cheryl Louise Olney.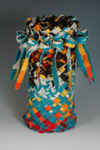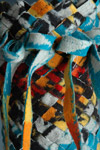 "FIRE AND ICE" 2007 10.5" x 7.5"
Plaited basket from wool Pendleton blanket selvedges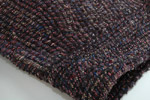 "TORSO ON A HANGER" 2007 28" x 23" x 5"
This sculptural form was created using a basketry technique, strips of handwoven fabric (cotton, rayon, silk) are wrapped around a cotton core. Coiled and machine stitched, commercial hanger.